2009 Holiday Gift Guide Internet Explorer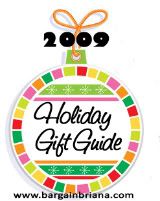 These are some of my favorite products and gift recommendation ideas. This list will be updated throughout the Holiday Season. In most cases, the link will take you to a full review of the product/service or it will take you directly to the shopping site.
Note: This is best view in Fire Fox. If you are using another browser, please use this version
Gifts Under $10
Looking for a practical, yet stylish gift? Flip n Tumble are bags that roll up into a ball yet can hold up to 25 lbs. Perfect gift for someone who wants to use a reusable bags but usually forgets them at home. Solid bags retail for $9, patterns $12. Buy in bulk and save!
The Azula is the fashionable mat that keeps women's swimsuits from snagging when sitting at the edge of the pool! Priced right at just $5 save wear on your swimsuit booty thus saving you money with these mats. Great practical gift idea or stocking stuffer! Small enough to roll up to fit into your pool bag and includes a build in cord. Also great for the beach (sand doesn't stick), outdoor festivals, indoor water parks, sporting events, picnics, and more.
Shower Spex, originally created for Baby Boomers who can't see without their "readers" to be able to readily identify their shampoo and conditioner bottles in the shower, can also be used to dress up your product. I am nearsighted and I find myself squinting to be able to identity my products in the shower.

Available in trendy patterns, young people will like them too and helps identify their products from others. Perfect for a young person with roommates.

Shower SpeX retail for $9.99 and are available in boutiques, spas, hair salons, and at showerspex.com.

Ear Budeez has come out with a limited edition head phones just in time for the holidays. At just the right price, earBudeez are compatible with virtually every electronic device including iPod and iPhone. Buy.com is offering these earphones for $8.99.
Never lose your lip gloss again with the YoYo lip gloss. Just attached it to your purse, bag, jacket, belt loop and you will have access to it whenever you need. The lip gloss is attached to clip that is a tethered, retractable cord. Cool, right? This is a perfect stocking stuffer or a fabulous gift for a child's friend. Retails for just $2.99.
Gifts Under $25
Photo Books from Snapfish put a personalized touch on your holiday gift giving. Personalize for grandparents, make an All About Me book for your child, or use your imagination! Prices start at $19.99.
New York Times best selling author, Eileen Goudge, has another winner in Once in a Blue Moon. Two sisters, separated at a early age, who experienced a hard life growing up but at least they had each other are reunited after almost thirty years in this heart warming book. Retails for $24.95

Project Earth H2O was founded with the goal of eliminating single use water bottles by creating a reusable water bottle that is BPA-free and made of stainless steel.

The bottles hold 27 ounces and come in four colors: blue (Ocean), silver (Air), green (Earth), and pink (Get Pink). Price is $17.99 on Amazon with free shipping and a sport cap.

Plus, $2 from every "Get Pink" bottle sold goes towards Breast Cancer Research. In addition, $2 of every Ocean, Earth and Air bottle is also donated to non-profit environmental & humanitarian charities dedicated to making a difference.

Southern Living Busy Moms Weeknight Favorites has made this mom a better cook. There is a variety of simple, easy to make recipes in this cookbook, which are tasty too! Retails for $24.95.
Small Product packs a big punch. The G-spout is easy to attach and lets you pour with one hand. You won't have to fumble with funnels, ladles, or trying to pour it "just right" with this attachable spout. The g-Spout has hundreds of uses and is a simple device to help you pour accurately and easily from skillets, pans, bowls, cans, and more. Retails at $12.99.

Sedarahc,the game of reverse charades. While normal charades is one person acting out words for the team to guess, SEDARAHC is the reverse – the team tries to act out as many words as possible together for one person to guess.

Perfect gift to correct unforgettable, hilarious memories with family and friends. Retails for $19.99

Enjoy the aroma and use it as a lotion? Sacred Glo Candles are made from the finest natural ingredients and oils. Which is different about these candles is they can provide a multi layer experience. Enjoy the aroma from the lit candles as well as use the oil from the candle as it burns as a therapeutic and massage lotion. Then once you've enjoyed the full candle, the holder is 100% reusable as a drinking glass or a decorative accessory. Prices range from $12.95 – $24.95.
Gifts Under $50
| | |
| --- | --- |
| | The Wet Paint Nail Glaze system is a set of nail polish which allows you to create personalized colors to match your mood, personal style, or outfit. Applies like a regular nail but dries system fast. With 6 bottles you can make 18 color shade by mixing shades. Wet Paint Nail Glaze System is a perfect gift from tweens to moms. At just $29.99 for a set of 6 bottles, you can create 18 color shades. |
Gifts Under $100
| | |
| --- | --- |
| | Wi–Fire gives Windows, Linux and Macintosh users worldwide the freedom to connect to WiFi networks when they want, where they want. Wi-Fire helps users pick up a more reliable signal and prevent dropped connections with a small adapter you attached to your computer. Great gift idea for those who travel and need reliability at hotels and airports. Retails for $59. |
Gifts $100 +
| | |
| --- | --- |
| | Euro Pro Shark Deluxe Steam Pocket Mop for $119. Great gift for moms, grandmas, or anyone who loves a clean floor with no chemicals and little effort! Retails for $119 |
| | The Flip Camcorder is one of the easiest to use camcorder's out there. You can easily upload pictures to your computer and there is no additional cords required as it has a built in retractable USB connection. Depending on the model you purchase, it can hold 30 – 120 minutes of video. So easy to operate, kids can take movies without any real training. Retails from $89.00 and up. |
Gifts for Him
Get great tasting water on the go, with EcoUsable Stainless Steel Filtered Water Bottles. Not only good for the environment but is great to have for emergency preparedness survival kit. BPA-free, non-leaching, and eco-friendly. EcoUsable states that harmful contaminants are removed as you drink. Did I say they have the hippest designs too? Retails for $10.95 and up online at Amazon.

Throughout the holiday season, you can get more bang for your buck when you purchase McCormick & Schmick's Restaurants gift cards.

Buy $50 Gift card, receive a $10 dining certificate
Buy $100 Gift card, receive a $25 dining certificate

Dining certificates are valid from January 1, 2010 to March 31, 2010 for purchases made at McCormick & Schmick's Restaurants and not redeemable for alcohol or gratuity. Dining certificates will be mailed to the billing addresss

You can purchase gift cards in restaurants, in grocery stores, at Costco, and online at McCormick's and Schmick's. So give and get!
Gifts for Her
| | |
| --- | --- |
| | If you are not convinced that soup can be the main dish, you need to read the New England Soup Factory Cookbook. With over 100 soup recipes, there is bound to be numerous recipes to entice you to think otherwise. This book leads you from stocks to chowders with mouth watering pictures to accompany many of the recipes. One of the things I was impressed with is the amount of meatless soups in this cookbook – though plenty with meat. Retails for $24.95. |
| | This is a great gift idea for someone who has everything! Huephoria offers funky, hand blown, glassware. They offer unique wine and martini glasses in over 35 different, fun patterns. Mix up a set and you will no longer need wine jewelry to prevent mix ups! |
| | For over 30 years, Sondra Roberts has offered a versatile selection of quality bags at a lower price point than many designer bag series. In addition, Sondra Roberts created a second line, SR Squared, made from the same quality construction but with more affordable man made materials. Quality + Affordability = This Mom Likes. |
Gifts for Toddlers
K'NEX Sesame Street Building sets are perfect for children ages 2-5. These fun kits are designed to inspire creativity in your younger child. Prices start at $9 depending on the set.

Skip the candy and stock their stuffing with healthy, delicious foods for kids from Revolution Foods. Made with 100% organic ingredients and contains no trans fat, no high fructose corn syrup, and no artificial ingredients. My kids snuck into our Revolution Food stash and scarfed them all down.

Suggested stocking stuffers include: Jammy Sammy, Mashups, Popalongs, and Organic Grammy Sammy. Prices start at $2.99 or buy in bulk on Amazon.com.

The Bobo Glove and Book is fun for your baby at your fingertips! Invented by a mom, Raquel Jaramillo, it is a palette of bright and beautiful colors which mom or dad can wear to entertain and stimulate baby's sensory perception. The glove has noisemakers, pull toys, shapes, and rings to teeth on. Not only does it include the Bobo Glove, it also includes a board book, Bobo Baby!, a baby's first story about farm animals and their noises. Take this glove along with you anywhere. It would make a great baby gift or baby shower gift. Best of all, no batteries required. Don't we love those types of toys! Retails at $18.95.
Games from Hasbro like Giraffalaff Limbo and Scatterpillar Scramble will be big hits with young children. Prices may vary by game.
Aurora, one of the largest plush manufacturer's in the world, creates these adorable YooHoo & Friends plush. These are perfect stocking stuff items or a small toy gift for a child as they retail at $6.99 – $8.99
Gifts for School Age Children
The Sweet Spot Sports line from EA Sports is a great gift idea for the child sports enthusiast. This product line features an audio reward when user hits or holds the ball in the right spot, improving the "sweet spot" accuracy, and hand eye coordination. Prices range from $14.99 – $19.99. Designed for Ages 5 and up.

Products include:

Sweet Spot Hockey Stick and Puck

Girl Gourmet Cake Bakery from Jakks Pacific Toys is a fun gift for your favorite little baker! For those on special diets, ingredients are gluten and wheat free as well as trans-fat free, and produced in a nut free facility.
Let their minds work creatively with K'NEX. These pieces allow a child to build 2-D and 3-D models and connect with all major building sets like Legos. Prices vary by set. Hours or enjoyment for ages 7 and up. Amazon has a 400 piece set on sale right now for $14
Elmer's has taken the Discovery Channel's #1 show, Mythbusters, and made these fun and educational kits like the Mythbusters Weird World of Water kit. Perfect for the curious child. Retails for $19.99.
Gifts for Pre-Teens & Teens
| | |
| --- | --- |
| | Looking for a gift for those hard to buy for teenagers? Look no further than the Rock Buds – the stylish ear buds! They are compatible with iPhone, iPod, CD player, MP3 player, DVD player, airplane connector – pretty much any listening device. |
| | Imagine Stepford Wives from a teen perspective. Imagine a perfect town where teens love to do homework, obey their parents, always eat healthy, and never question authority. This is the town of Candor. Candor by Pam Bachorz is a very easy read and I think it would be enjoyable for young adults as well as adults. Retails for $16.99 but on sale at Amazon as of this posting for just $11.55. |
| | Boom Boom Cards by Boom Boom! Revolution are cards designed to do intentional acts of Kindness. Basically, you do the revolutionary act of kindness on the card. Then, you go to the website and tell your story. Pass along your card to a friend and follow your card on the website's map as it moves across the globe. What a revolution! There is a Teen Edition as well as a Original Edition available for $9.99. This is the gift that gives back. |
| | Originally introduced in the 90s, The Dream Phone game allows tweens to find out who has a crush on you by playing this game. The fun begins with the ring of the phone as girls make calls to a dream team of 24 teen boys, hoping to find their secret admirer through a process of elimination. Retails for $30 and is sold exclusively at Justice Stores. |
| | Leaving the Bellweathers is an imaginative and whimsical story about a family and their butler, Tristan Benway. Kristin Clark Venuti's first book is one that will keep the attention of your middle school child through the humor and off beat mayhem. |
| | All the Better to Kiss you With Holiday Kiss Kit from the Baby Bear Shop is a unique variety of three organic lip balms in vintage times. Retails for $19.99 online at urbanoutfitters.com or allthebettertokissyouwith.com. |
Gifts for Everyone
| | |
| --- | --- |
| | Keep warm while gadgeting with these stylish and functional gloves. Don't let all of your fingers freeze while you are out in the cold. Etre Touchy Gloves will be a unique and loved gift to anyone who loves gadgets on your list – especially texting teenagers! Retails for $33. |
| | I would recommend the Ninja Kitchen to anyone, even those who don't like to cook! It will replace your food processor, blender, cheese grater and more! Retails for $59.99. |
| | A gift anyone will love, a popcorn gift basket from Popcornopolis. All products are made fresh and shipped immediately so you know you are getting the highest quality popcorn. Even if you don't get it all eaten quickly, the popcorn will stay fresh for up to 3 months. |
| | Charleston Cookie Company makes high quality delicious treats, which are great for gifts. They are packaged adorably and let me tell you, very tasty! The Candy Cane Brownies are a brownie for adult palates are taste as fresh as if they were just made. Prices vary. |
| | Protect your high tech gifts this season with custom cases from OtterBox. Offers protection for Apple, Blackberry, HP, Nokia, HTC, Samsung devices among others, OtterBox will safeguard your expensive devices. Prices vary from $19.95 and up depending on your device. |
| | Cookies from Home really taste like cookies from home. Probably better than mine. Cookies from home also comes in a delightful "house" package when shipped. They also offer special cookies for dietary needs. Prices may vary. |
Note: No compensation was received for these recommendations. In some cases a sample may have been sent for my review. It is noted in the actual review link whether samples were sent.
PR/Media: Interested in having your product spotlighted? Email holiday.bargainbriana@gmail.com for more details.