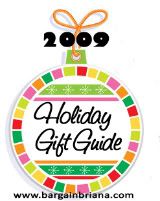 These are some of my favorite products and gift recommendation ideas. This list will be updated throughout the Holiday Season. In most cases, the link will take you to a full review of the product/service or it will take you directly to the shopping site.
Gifts Under $10
---
The Bible Trading Cards

I'm loving these Bible Trading Cards. Priced at just $3.99 for a package of 5 cards, these cards are so informational, yet fun! The Bible Trading Cards help children and pre-teens connect with the stories of the Bible in an educational yet fun manner with fantastic 3D computer generated art work.
Each Card includes: Beautiful artwork, narrative, fun facts, and a time line which allows multiple methods of learning.
I think these would be a great stocking stuff gift or even to pass out to friends or your Sunday School classmates. Geared towards ages 6- 13.
Products are made 100% in the USA.
---
Herculittles

Herculittles are a tiny little magnet with a herculean hold – 3.69 lbs of pull forces to be exact! Each little magnet can hold between 8- 10 sheets of paper. I'm really impressed on how it can really hold! Since they are small, the magnet doesn't detract from what you actually want posted. Great stocking stuffer gift, teacher gift, and more!
Available in packages of 6 – 8 magnets online starting at $7.99.
---
Hexbug Nano
Fantastic stocking stuffer idea!

The HEXBUG Nano provides hours of fun for the entire family. It is a bug like robotic toy that uses the physics of vibration and robotic intelligence to skitter along and explore its environment on a smooth surface. HEXBUGS were designed to engage and inspire kids at a young age by giving them a positive experience with robotics, thus encouraging them to pursue their interest in science, technology, engineering, and math.
Users can also visit www.handandstars.com to test your knowledge of scientific history, play games online, and register your Nano Collection.
Available at major retailers like Toys 'r Us, Radio Shack, and Amazon for $7.99 retail.
---
Kooky Klicker
Add a Kooky Klicker or two to their stocking with these popular novelty pens. From Spiderman to Star Wars, to Disney, there are numerous Kooky Klicker collections to choose from and bound to be a favorite for your loved one. Buy them separately or buy an entire collection, prices start at $3.49.
---
Glee Gum
The kids and I are loving these fun little pieces of Glee Gum. Glee Gum is all natural, gluten-free chewing gum with no artificial coloring, flavoring, sweeteners nor preservatives. Glee Gum is made from chicle, which is a natural tree sap harvested from the rainforests of Central America. Chicle gives the gum a great, long-lasting chewing texture and flavors like Tangerine, Bubblegum, Triple Berry, Peppermint, Spearmint, and Cinnamon.
Great stocking stuffer idea at just $0.99. It is available in most grocery stores nationwide as well as online at Amazon in larger quantities.
---
Saunter, written by R. Mike Wallace is a warm, feel good book for Christmas. Saunter, an large and athletic reindeer has a dream to lead Santa's sleigh on Christmas night. He must jump through hoops to achieve his goal. Designed for 9-12 years.
Retails for around $10 on Amazon.com.
---
Flip n Tumble Bags
Looking for a practical, yet stylish gift? Flip n Tumble are bags that roll up into a ball yet can hold up to 25 lbs. Perfect gift for someone who wants to use a reusable bags but usually forgets them at home. Solid bags retail for $9, patterns $12. Buy in bulk and save!
They are also offering produce bags now too so you don't have to use the plastic liners
---
Azula
The Azula is the fashionable mat that keeps women's swimsuits from snagging when sitting at the edge of the pool! Priced right at just $5 save wear on your swimsuit booty thus saving you money with these mats. Great practical gift idea or stocking stuffer! Small enough to roll up to fit into your pool bag and includes a build in cord. Also great for the beach (sand doesn't stick), outdoor festivals, indoor water parks, sporting events, picnics, and more.
---
Goody Green Bags
Goody Green Bags are a trendy and fun way to go green! These bags are different than most because they fold down into a small square to easily fit inside a purse. Their compact size is perfect for travel as a beach bag, gym bag, or a souvenir carry on for your travel home. I'm loving the pink polka dots on brown bag!
Prices range from $8.95 – $9.95. Currently sold online at goodygreenbag.com, Whole Foods, and over 50 smaller retail outlets across the United States.
---
Shower Spex
Shower Spex, originally created for Baby Boomers who can't see without their "readers" to be able to readily identify their shampoo and conditioner bottles in the shower, can also be used to dress up your product. I am nearsighted and I find myself squinting to be able to identity my products in the shower.
Available in trendy patterns, young people will like them too and helps identify their products from others. Perfect for a young person with roommates.
Shower SpeX retail for $9.99 and are available in boutiques, spas, hair salons, and at showerspex.com.
---
IKEA Soft Toys
Great stocking stuffer and helps a good cause. Purchase any soft toy ranging from $1.49 – $19.95 at IKEA and $1 will be donated to UNICEF and Save the Children. Visit Ikea.com/softtoysaid for more information and delightful choir music.
---
Orville Redenbacher's Poppycock
Orville Redenbacher's Poppycock, which is a cluster of almonds, pecans, and gourmet popcorn is a great stocking stuffer idea! It is so tasty, you won't want to put it down.
It is available in a festive, holiday themed canisters for your holiday gift giving. Great for stockings or as an inexpensive, yet tasty gift.
Retails for $3.99 for a 10.5 oz. canister or $6.99 for a 24 oz canister and is sold nationwide.
---
Glade Holiday Candles
Create a wonderful holiday atmosphere or give Glade Holiday Candles as a gift. At an affordable price (plus there are coupons available), Glade candles make a great stocking stuffer or to give to family and friends.
The Holiday Collection includes fragrances like Peppermint Crush, French Vanilla, Apple Cinnamon, Homemade Gingerbread, Hollyberry Wreath, and Bayberry.
---
Ear Budeez.
Ear Budeez has come out with a limited edition head phones just in time for the holidays. At just the right price, earBudeez are compatible with virtually every electronic device including iPod and iPhone. Buy.com is offering these earphones for $8.99.
---
Yo Yo Lip Gloss
Never lose your lip gloss again with the YoYo lip gloss. Just attached it to your purse, bag, jacket, belt loop and you will have access to it whenever you need. The lip gloss is attached to clip that is a tethered, retractable cord. Cool, right? This is a perfect stocking stuffer or a fabulous gift for a child's friend. Retails for just $2.99.
---
Gifts Under $25
---
When I was young, Hello Kitty was the IN thing. I'm happy to see it is still popular. To celebrate Hello Kitty's 35th Anniversary, they have launched Mimobot designer flash drives. The Mimobot flash drives are not only adorable, they have up to 16 GB capacities and are bundled with mimoDesk personalization suite of Sanrio themed wall papers, screen savers, icons, and avatars.
Not into Hello Kitty? Mimobot has many other designer brand USB Flash drives for fan favorites such as Star Wars, Halo, and others.
You can purchase at Mimobot.com or Sanrio.com with prices starting at $24.95.
---
Wonda Wedge
Oh, Wonda Wedge where have you been? This is the perfect accessory for the beach, outdoor concerts, or reading/resting in bed. It is a lightweight, inflatable pillow with a permanently attached mat. It folds up into a nice square for easy transportation. Retails for $24.95 and sold online at Amazon.
---
Ratuki
Ratuki is a fast, quick grabbing card game for the entire family. Up to five players race to get rid of their cards to collect the most points. Everyone plays at the same time so there is no down time.
Not only is it quick and fun, kids can learn about basic roman numerals and Spanish numbers as they play.
Recommended for ages 7 and up. Sold online and in stores at Barnes and Noble for $12.95.
---
Snapfish Photo Books
Photo Books from Snapfish put a personalized touch on your holiday gift giving. Personalize for grandparents, make an All About Me book for your child, or use your imagination! Prices start at $19.99.
---
New York Times best selling author, Eileen Goudge, has another winner in Once in a Blue Moon. Two sisters, separated at a early age, who experienced a hard life growing up but at least they had each other are reunited after almost thirty years in this heart warming book. Retails for $24.95
---
Drop Stop
No more lost french fries with this innovative vehicle accessory, or lost lipbalm in my case, with the Drop Stop. A large majority of crashes are caused because drivers are distracted just prior to the event, the Drop Stop can provide a safer more convenient driving experience.
Simply install the Drop Stop by placing in between the seat and center console and aligning with the Drop Stop's built in slit over and around the seatbelt catch. Simply, yet innovative, this is sure to be a holiday hit.
Retails for $19.95 for a set of two exclusively online at BuyDropStop.com.
---
Project Earth H2O
Project Earth H2O was founded with the goal of eliminating single use water bottles by creating a reusable water bottle that is BPA-free and made of stainless steel.
The bottles hold 27 ounces and come in four colors: blue (Ocean), silver (Air), green (Earth), and pink (Get Pink). Price is $17.99 on Amazon with free shipping and a sport cap.
Plus, $2 from every "Get Pink" bottle sold goes towards Breast Cancer Research. In addition, $2 of every Ocean, Earth and Air bottle is also donated to non-profit environmental & humanitarian charities dedicated to making a difference.
---
Knit Kit
Knit Kit is a perfect holiday gift for the knitter in your life. Compared in the industry as the Swiss Army tool for knitters, the Knit Kit has 7 essential knitting accessories needed for knitting on the go.
The Knit Kit is a perfect accompaniment to any knitting project. Includes the following in one compact device:
crochet hook
thread cutter
locking counter5 ft
5 ft. tape measure
stitch markers
tip protectors
collapsible scissors (TSA Compliant)
Retails for $24.95 on Amazon.com.
---
Southern Living Busy Moms Weeknight Favorites
Southern Living Busy Moms Weeknight Favorites has made this mom a better cook. There is a variety of simple, easy to make recipes in this cookbook, which are tasty too! Retails for $24.95.
---
Beech Yoga and Pedicure Slippers
New for the 2009 Holiday, Comfys from Beech Yoga and Pedicure Slippers are available in fun prints such as the snow leopard, brown leopard, snakeskin, and zebra. A comfy, warm winter slipper, makes a great holiday gift.
Ever tried to walk in those flimsy pedicure slippers? Yoga Sandals also make great pedicure sandals to wear straight after a pedi without waiting for your nails to dry.
Retails for $40 and can be purchased at www.yogasandals.com.

---
Hoover WindTunnel T-Series
Hoover Windtunnel's T-series is one of bagless upright vacuums at an affordable price. Handy features include a rewindable cord, bagless, reusable filters, pet attachments, 5 setting adjustable handle, headlights (gotta love those!), no scuff bumper, fold down handle for easy storage, easily transition from carpet to bare floors, 12" wand, crevice tool, and upholstery/dust brush.
This is a lightweight but powerful vacuum at an affordable price. Retails online at Amazon from $99 to $159.
---
G-spout
Small Product packs a big punch. The G-spout is easy to attach and lets you pour with one hand. You won't have to fumble with funnels, ladles, or trying to pour it "just right" with this attachable spout. The g-Spout has hundreds of uses and is a simple device to help you pour accurately and easily from skillets, pans, bowls, cans, and more. Retails at $12.99.
---
Sedarahc
Sedarahc,the game of reverse charades. While normal charades is one person acting out words for the team to guess, SEDARAHC is the reverse – the team tries to act out as many words as possible together for one person to guess.
Perfect gift to create unforgettable, hilarious memories with family and friends. Retails for $19.99
---
Sacred Glo Candles
Enjoy the aroma and use it as a lotion? Sacred Glo Candles are made from the finest natural ingredients and oils. Which is different about these candles is they can provide a multi layer experience. Enjoy the aroma from the lit candles as well as use the oil from the candle as it burns as a therapeutic and massage lotion. Then once you've enjoyed the full candle, the holder is 100% reusable as a drinking glass or a decorative accessory. Prices range from $12.95 – $24.95.
---
Gifts Under $50
---
EZ Find
The EZ Find is the perfect gift for that person who is always losing something. Uh, mom, is that you? Or hey, even my family with all the lost remote controls.
With the EZ Find, you can locate misplaced items in your home or small office. Can hold up to 25 electronically tagged items. . Basically you attach the transmitter to a special spot, use the EZ Find Tags for your special items. When you lose your item, a loud 92 decibel alarm aids you in finding your lost items quickly.
Sold online at EZ Find and Amazon.com for $49.95.
---
Chill Pill Speakers
Not only are these speakers – Chill Pill – cute, they are functional and innovative. Great portable speakers on the go as everything you need to hook up to your portable device is retractable within the speakers. Twist the speakers to exapnd for bigger bass. The speakers twist together for easy travel.
Chill Pill mobile speakers work wtih iPod, iPhone, Computer, and any device with an audio jack like play devices and MP3 players.
Available at Small Dog Electronics for $39.99.
---
Wand Wireless Controller from Nyko
The color Wand Nyko Wireless Controller. The Wand is available in purple, blue, black, and pink. in our household, that means each child could have their own controller so no more arguing about which remote belongs to who.
The Wand Wireless controller is fully compatible with Wii Software and menus. It also features Nyko's Trans-Port technology which allows for compatible peripherals to communicate digitally with the Wand. It also has a speaker and provides instant audio feedback. It also has a rubberized trigger button and battery cover which allows for better grip. Retails for $29.99 on Nyko.com.
---
Induction Charging Stand for Wii Controllers by Nyko
To go along with your wireless wand, you will need the Nyko Induction Charging Stand for Wii Controllers. It works with both the Nyko Wand and the Wii Controller to charge without removing it from the silicone sleeves. There are many perks with this charging base as it has a port free AC with a pass through port so it won't take up an additional power outlet, allows you to charge powered USB compatabile devices, and magnetically holds each controller while indicating the charge status of the NiMH rechargeable batteries. You will be able to have 10 hours of playtime on a full charge.
If you go through the AA batteries like we do in our household, you could easily pay for this charger in no time. Retails for $39.99 on Amazon.com.
---
Dazzler DVD Recorder
With the Dazzle DVD Recorder you can transfer video footage to a DVD by just using your PC. All you do is connect a VCR, DVD player, camcorder, or other video device to the Dazzle USB hardware. Then you use the Pinnacle instant DVD recorder software to create a DVD recording. Then you can burn your video directly to a DVD without even saving on your hard drive.
Great gift idea for that person with way too many home movies still on VHS cassettes.
Retails for $49.99 but priced on Amazon for just $34.99.
---
Bijoux in a Box offers affordable do it yourself (DIY) beaded jewelry and craft projects that are also stylish! They are fun for individual projects or as group projects for birthday parties, girls' night out, gift-making, and MORE!
Bijoux in a Box can customize many of their projects for a party's theme including princess parties, tea parties, pool parties, and more. They can appeal to all ages and for boys, girls, and adults. They can also be great projects you and your child can assemble for holiday gifts for friends and family!
Prices range per project starting at $16.
---
Wet Paint Nail Glaze System
The Wet Paint Nail Glaze system is a set of nail polish which allows you to create personalized colors to match your mood, personal style, or outfit. Applies like a regular nail but dries system fast. With 6 bottles you can make 18 color shade by mixing shades. Wet Paint Nail Glaze System is a perfect gift from tweens to moms. At just $29.99 for a set of 6 bottles, you can create 18 color shades.
---
Gifts Under $100
---
Wi-Fire
Wi–Fire gives Windows, Linux and Macintosh users worldwide the freedom to connect to WiFi networks when they want, where they want. Wi-Fire helps users pick up a more reliable signal and prevent dropped connections with a small adapter you attached to your computer. Great gift idea for those who travel and need reliability at hotels and airports. Retails for $59.
---
Mophie Juice Pack and Air Case for iPhone + Hip Holster Case
The Mophie Juice Pack and Air Case for iPhone packs a powerful punch. Simply charge the case, connect to your iPhone, then when your battery on iPhone is getting low flip a switch to begin instantly charging your iPhone. Synch directly to iTunes and a hip holster is available to purchase that fits with the case as well as allowing you to connect to your computer without taking it out of the hip holster or case.
Juice Pack retails for $79.95 and the hip holster $29.95 and sold on Amazon.com, Mophie.com, and Apple.com.
---
Voyager Pro from Plantronics
The Voyager Pro from Plantronics is the most advanced noise canceling Bluetooth headset on the market right now. It was voted Editor's Choice by CNET and PC Magazine this past spring for its three layers of wind protection.
It is all comfortably designed for those who wear their headsets for long periods of time.
Sold on Amazon for $85.
---
Gifts $100 +
---
Euro Pro Shark Deluxe Steam Pocket mop
Euro Pro Shark Deluxe Steam Pocket Mop for $119. Great gift for moms, grandmas, or anyone who loves a clean floor with no chemicals and little effort! Retails for $119.
---
Flip Camcorder
The Flip Camcorder is one of the easiest to use camcorder's out there. You can easily upload pictures to your computer and there is no additional cords required as it has a built in retractable USB connection. Depending on the model you purchase, it can hold 30 – 120 minutes of video. So easy to operate, kids can take movies without any real training. Retails from $89.00 and up.
---
Gifts for Him
EcoUsable Stainless Steel Filtered Water Bottles
Get great tasting water on the go, with EcoUsable Stainless Steel Filtered Water Bottles. Not only good for the environment but is great to have for emergency preparedness survival kit. BPA-free, non-leaching, and eco-friendly. EcoUsable states that harmful contaminants are removed as you drink. Did I say they have the hippest designs too? Retails for $10.95 and up online at Amazon.
---
The Golfer who has everything will appreciate the gift of CleatSkins. With this hot new accessories, he only needs to keep the rubber CleatSkin in his golf bag instead of worrying about having an extra pair of shoes. Just slip on the Cleatskin and the golf shoes turn into to street wear. Prices start at $29.95 for men. Available for youth starting at $24.95.
---
Remington BHT-600 Body and Back Groomer
He won't take offense when you give him the new body and back groomer from Remington. The Remington BHT-600 is great for getting rid of unwanted hair on the chest, back, abs, groin, and leg. It includes an extendable handle, 360 degree attachments, and bi-directional heads.
Take control of that unwanted body hair. Retails for $39.99 on Amazon.
---
Bergino
Purchase a customized baseball from Bergino for the sports lover in your life. All baseballs from Bergino are handmade with unique gloss wraparound artwork. Includes gift/box and turf base stand.
In addition to the Peace unto man ball pictured to the left, there are a variety to choose form like We the People, Super Dad, City maps, and more!
Retails for $20 at bergino.com. Enter coupon code PEACE at checkout for a 10% discount.
---
Outdoor Action Wii Games
Combine two loves, video games and outdoor action with these two Wii Games by Mastiff Games – Shimano Xtreme Fishing and Remington Great American Bird Hunt. Both games allow up to four players for fun for the entire family.
In Shimano Xtreme Fishing you can catch up to 50 types of fish, bag a trophy, hunt monster gators, and much more! Shimano is huge in the tackle market. I do pay a little attention when the boys start talking fishing! Retails for $29.95 on Amazon.com.
Remington Great American Bird Hunt allows players to play in competitive, cooperative, in teams to hunt ducks, geese, turkey, pheasant, and grouse. Plus it includes a fun party mode! Retails at $29.95 on Amazon.com
---
Old Spice Swagger Gift Set
Give the gift of confidence with the self proclaim "official scent of confidence" of Old Spice Swagger. Old Spice is offering convenient Old Spice Holiday gift sets with include:

Deodorant

Body Spray

Body Wash

16 Hour Odor Blocking Body Wash

Deck Scrubber Shower Tool
Retails for $9.99 and sold at retail outlets nationwide and online at Amazon.com.
---
Crown Royal
For those with distinguished drinking taste, Crown Royal Reserve is a distinguished whiskey. Less than 1% of Crown Royal whiskey barrels are selected to provide this blend's unique flavor. Crown Royal Reserve is hand crafted in Gimli, Manitoba by Diageo. Crown Royal is the number one selling whiskey in the United States by value.
Drink, neat on the rocks or as an addition to a high end cocktail. Retails for $45.
In addition, you can now personalize Crown Royal embroidery bags via the Crown Royal website. You can add a personalized greeting to the famous Crown Royal purple bag. Prices range from $9.95 – $11.95.
---
McCormick & Schmick's Restaurant
Throughout the holiday season, you can get more bang for your buck when you purchase McCormick & Schmick's Restaurants gift cards.
Buy $50 Gift card, receive a $10 dining certificate
Buy $100 Gift card, receive a $25 dining certificate
Dining certificates are valid from January 1, 2010 to March 31, 2010 for purchases made at McCormick & Schmick's Restaurants and not redeemable for alcohol or gratuity. Dining certificates will be mailed to the billing addresss
You can purchase gift cards in restaurants, in grocery stores, at Costco, and online at McCormick's and Schmick's. So give and get!
---
Gifts for Her
---
New England Soup Factory Cookbook
If you are not convinced that soup can be the main dish, you need to read the New England Soup Factory Cookbook. With over 100 soup recipes, there is bound to be numerous recipes to entice you to think otherwise. This book leads you from stocks to chowders with mouth watering pictures to accompany many of the recipes. One of the things I was impressed with is the amount of meatless soups in this cookbook – though plenty with meat. Retails for $24.95.
---
Dazzle Dry Manicure Set
Dazzle Dry is a vegan manicure set that dries completely in 5 minutes. Gives you a professional look in little time. Include nail prep, base coat, top coat. Products are not tested on animals.
I'm loving the drying time as I'm so active it is hard for me to do nothing for even 10 minutes!
Sold online for $28.00.
---
AbbyRoo
Are you always digging in the purse to find something that mysteriously ended up on the bottom? Or thinking you lost things but really remember putting in your purse? If so, the AbbyRoo bag is for you.

The AbbyRoo bag uses the logic of a kangaroo pouch to conceal and organize 10 various size pockets. It is 17" x 15" tote with a large outer pocket, unzip the front full to expose zippered mesh compartments providing instantly visibility.
Use it as a beach bag, diaper bag, laptop bag, office bag, lunch bag, travel bag, or anytime!
Available in Black, Burgundy, or Ivory, $39 at abbyroo.com
---
LewAllen and LewAllen Jewelry
LewAllen and LewAllen Jewelry in Santa Fe, New Mexico has been creating quality creations for over 30 years. The jewelry is made of sterling silver, 14K gold, and high quality gems and stones.
This Moms Heart pictured to the left is just beautiful. It was created in honor of Laura LewAllen's mother, the winged heart represents "letting go" and the back has hugging arms. Wear it close to your heart.
This is only a sampling of the beautiful pieces they have to offer. LewAllen & LewAllen can even create a piece of jewelry out of your company logo.
Prices may vary and can be purchased online at lewallenjewelry.com.
---
Huephoria
This is a great gift idea for someone who has everything! Huephoria offers funky, hand blown, glassware. They offer unique wine and martini glasses in over 35 different, fun patterns. Mix up a set and you will no longer need wine jewelry to prevent mix ups!
---
The Charm Factory
These Sterling Silver charms and charm bracelets from The Charm Factory are high quality, detailed charms. Each charm is .925 sterling silver, nickel, and lead free.
I'm impressed with the selection too! My Charm Bracelet has Mom's Taxi, Cross, Calculator (for figuring out deals), Sport Mom (yep), I (heart) to blog, lipstick (or lipbalm) with detailed pink jewels, I (heart) football, and of course "On Sale."
Prices may vary depending on the charm and number of charms you want for your design. The Charm Factory
---
Sondra Roberts
For over 30 years, Sondra Roberts has offered a versatile selection of quality bags at a lower price point than many designer bag series. In addition, Sondra Roberts created a second line, SR Squared, made from the same quality construction but with more affordable man made materials. Quality + Affordability = This Mom Likes.
---
Gifts for Toddlers
---
My First Oreck
My First Oreck, from the makers of Oreck, is a kids' vaccum that moves, makes sounds, and is colorful. Your child can follow you around with their own vacuum and help learn helpful skills. Vacuum is recommended for ages 3 and up with a real on/off switch.
While the vacuum just mimics a real vacuum, your child will still be fascinated by this almost real thing. Includes chore flash cards to help your child learn how to help around the house.
For your holiday gift guide, for kids, here's a time-tested idea for kids ages 3 & over, that moves, makes sounds, is colorful.
It's a kids' vacuum with educational plus, My First Oreck (from the makers of Oreck hypo-allergenic vacuum cleaners), that comes with flash cards.

Available online at oreck.com and Oreck retailers across the nation for $49.95
---
WowWee Alive Animal Babies & Minis
These little guys are so adorable. Four cuddly animals come "Alive" with love and attention. You can choose from WowWee Alive Seal Pup, Husky Puppy, Koala Joey, and Leopard Cub. Each Alive Animal features animated facial and vocal expressions triggers by child's touch. Comes complete with adoption papers and a family portrait.
WowWee Alive minis are the smaller version of the WowWee Alive. They are 8" and come with interactive feeding bottles. They have touch and tilt sensors from snoring to gurgling depending on the animal's mood.
Suggested for ages 3 and up.
Sold on Amazon and other retailers for $19.99 – $59.99

---
K'Nex Sesame Street Building Sets
K'NEX Sesame Street Building sets are perfect for children ages 2-5. These fun kits are designed to inspire creativity in your younger child. Prices start at $9 depending on the set.
---
Tessy and Tab Reading Club
Tessy and Tab is a colorful, ad-free subscription magazine (which is more like book) for children ages 2-6. Geared towards preschoolers, it helps build early reading skills. Issue like Soccer Game, Earn Allowance, and In a Wedding, are not only fun to read but also teach children valuable lessons.
This gift will give all year long with twice a month magazine addressed to your child. Plus, you will receive online access to educational games and printable coloring pages.
Parents wlll enjoy the useful tips in each issue and craft ideas as well as printable activity sheets to keep their child entertained. The books are printed on FSC certified paper using non-toxic, soy-based inks too!
$48 for 24 issues, which is a year subscription. Kids will LOVE getting this in the mail!
---
Myself Belts
Even had a child have an accident because they are fumbling with their belt? If so, Myself Belts is for your child. Your child will feel self confident and won't be driving you or their teacher nuts trying to fix their belt with the Myself Belts. Simply, snap, slide, and secure the belt with a sturdy velcro piece.
Invented by a mom, Myself Belts promote independence and boost self esteem. They are functional, fashionable, and fun to wear. They come in unique designs. Sizes range from a 2T to a 7/8.
Retails for $14.95 on Amazon.com.
---
Let's Get Ready for….Books
Parents and teachers love the Let's Get Ready for Kindergarten and First Grade book. Entertaining for kids ages 2-8. They are also teach the curriculum for each grade. There is also a bilingual edition Prepararse Para Kindergarten available.
Created by a mom who donates 10% back to literacy foundations and schools.
Retails for $19 – $21 online at Cedar Valley Publishing.

---
Revolution Foods
Skip the candy and stock their stuffing with healthy, delicious foods for kids from Revolution Foods. Made with 100% organic ingredients and contains no trans fat, no high fructose corn syrup, and no artificial ingredients. My kids snuck into our Revolution Food stash and scarfed them all down.
Suggested stocking stuffers include: Jammy Sammy, Mashups, Popalongs, and Organic Grammy Sammy. Prices start at $2.99 or buy in bulk on Amazon.com.
---
Animagic Pets
Animagic pets from Vivid imaginations is an award winning toy in Britain, is now taking the U.S. by storm. A huggable and lap size animatronic plush toy designed for children's ages 3- 7.
Each pet respond to hugs and stroking with life-like sounds and movements. You can view all of them at Animagic Toys.
Retails for $50 and sold online and in stores at Toys R Us.

---
Bobo Glove and Book
The Bobo Glove and Book is fun for your baby at your fingertips! Invented by a mom, Raquel Jaramillo, it is a palette of bright and beautiful colors which mom or dad can wear to entertain and stimulate baby's sensory perception. The glove has noisemakers, pull toys, shapes, and rings to teeth on. Not only does it include the Bobo Glove, it also includes a board book, Bobo Baby!, a baby's first story about farm animals and their noises. Take this glove along with you anywhere. It would make a great baby gift or baby shower gift. Best of all, no batteries required. Don't we love those types of toys! Retails at $18.95.
---
Hasbro Games
Games from Hasbro like Giraffalaff Limbo and Scatterpillar Scramble will be big hits with young children. Prices may vary by game.
---
YooHoo & Friends Plush
Aurora, one of the largest plush manufacturer's in the world, creates these adorable YooHoo & Friends plush. These are perfect stocking stuff items or a small toy gift for a child as they retail at $6.99 – $8.99
---
Gifts for School Age Children
---
Heely's
Give the gift of a shoe that is also a skate with Heely's. If you haven't heard of Heely's, they are the lightweight athletic shoe with wheels inside the heel. You can walk, run, and switch to a roll at any time.
You can do all sorts of cool tricks with these "shoes" wherever you are allowed. Heelys.com gives you some great tips on how to get started on working your moves.
Sizes start at 12 youth a men's size 12. Heely's are available in many styles, colors, something for everything. Prices range from $29.99 – $59.99 and are sold online at Amazon.com, Overstock.com, and Endless.com.
---
The Sweet Spot Sports line by EA Sports
The Sweet Spot Sports line from EA Sports is a great gift idea for the child sports enthusiast. This product line features an audio reward when user hits or holds the ball in the right spot, improving the "sweet spot" accuracy, and hand eye coordination. Prices range from $14.99 – $19.99. Designed for Ages 5 and up.
Products include:
Sweet Spot Hockey Stick and Puck
---
Bongo Drums for Kids
The rainforest pattern is fun and kids can get two pitches to work from with the two drum heads. Fun to play with bongos, an important part of the Afro-Cuban family of rhythm instruments. Great for the budding musician in your household.
Retails for $60 at Woodstock Chimes.

---
The World Almanac for Kids 2010
The World Almanac for Kids 2010 is an exciting book which gives your child a wealth of information at their fingertips. Covering popular topics like Hannah Montana, President Obama, or the landing of the plane in the Hudson River, The World Almanac for Kids 2010 combines information in a very appealing manner.
The is full color, 352 resource retails for $13.99 and can be purchased on Amazon for $10.
---
Loud Enough
Protect your children's precious hearing by purchasing LoudEnough earphones, which are volume limiting earphones. LoudEnough earphones are stylish and still produce stereo sound quality but reduce sound pressure levels up to 40% with volume limiting function built right into the earphones without notice from the child.
Retails for $39.99. It is also sold on Amazon for $35.
---
201 Things to Do When Children Say I'm Bored

201 Things to Do When Children Say I'm Bored is a checklist and journal for busy families. It includes 67 colorful pages filled with creative ideas to keep kids busy and covers ages from 3 to 16.
Great for home or vacation. Available at 201thingstod.com for $14.95 plus shipping or $12.95 to download.
---
Twisted Fish
Twisted Fish is a card game designed for ages 6 and up for 3-6 players. Basically it is the old favorite of go fish with a "twist." Twisted Fish was named Creative Child Magazine 2007 Game of the Year Award.
Card deck consists of 13 unique Fish characters in 5 colors, plus 8 unique "Zingers". Zingers allow you to break the rules. A challenging game which will have the whole family "hooked."
Twisted Fish Retails for $10 and can be purchased on Amazon.com. This is a great stocking stuff gift!
---
My Virtual Tutor
My Virtual Tutor was a top new product pick from Dr. Toy. Help your child learn to read while having fun playing on their Nintendo DS. Each game has fun, interactive yet educational activities to develop skills needs for independent reading for play and learning on a platform, Nintendo DS, they already love.
Includes interactive books, phonics exercises, quizzes, and creative play all for an interactive experience.
Retails for $29.95 on Amazon.com and comes in different versions such as Pre-K to Kindergarten, Kindergarten to 1st Grade, and 1st Grade to 2nd Grade. So you can choose the level appropriate for your child's age level.
---
Girl Gourmet Cake Bakery
Girl Gourmet Cake Bakery from Jakks Pacific Toys is a fun gift for your favorite little baker! For those on special diets, ingredients are gluten and wheat free as well as trans-fat free, and produced in a nut free facility.
---
K'NEX
Let their minds work creatively with K'NEX. These pieces allow a child to build 2-D and 3-D models and connect with all major building sets like Legos. Prices vary by set. Hours or enjoyment for ages 7 and up. Amazon has a 400 piece set on sale right now for $14.
---
Mythbusters Weird World of Water
Elmer's has taken the Discovery Channel's #1 show, Mythbusters, and made these fun and educational kits like the Mythbusters Weird World of Water kit. Perfect for the curious child. Retails for $19.99.
---
Gifts for Pre-Teens & Teens
---
Alex Rider Adventures
My son has developed such a love for reading this year that he flying through books left and right. I know he will enjoy the The Alex Rider Adventures by Anthony Horowitz which is one of the rare series of books for Tween Boys.
It is designed for ages 10 and up, even though, my son is only 9, he reads above his age level even though his grades sometime do not reflect it. He is like I was, I loved to read but only wanted to read books that interested me instead of the required reading by the schools. Browsing through this book, I think he can handle the reading level and will thoroughly enjoy this action adventure book.
The newest book in this series is Crocodile Tears, and was just released in November. It is priced right at under $10 on Amazon.
---
Journal Buddies

Journal Buddies are more than your average journal. Enhance your child's self esteem and encourage daily or weekly writing with the Journal Buddies. Choose from Journal Buddies for Girls or Boys. It also encourages creativity, imagination, and positive outlook on life. Journal alone or with a buddy.
The teen and pre teen years are a roller coaster ride and the Journal Buddies is a perfect companion for a child to write out their emotions/thoughts/feelings.
Retails online at Amazon for $16.95
---
Rock Buds
Looking for a gift for those hard to buy for teenagers? Look no further than the Rock Buds – the stylish ear buds! They are compatible with iPhone, iPod, CD player, MP3 player, DVD player, airplane connector – pretty much any listening device.
---
Imagine Stepford Wives from a teen perspective. Imagine a perfect town where teens love to do homework, obey their parents, always eat healthy, and never question authority. This is the town of Candor. Candor by Pam Bachorz is a very easy read and I think it would be enjoyable for young adults as well as adults. Retails for $16.99 but on sale at Amazon as of this posting for just $11.55
---
Flair 4 All
Flair 4 All is a great gift for teenagers and pre-teens who want to spice up their room without leaving anything permanent. I heard from my own daughter and her friends that they want decorations or things for their bedrooms. This is a perfect gift to personalize their space.
Flair can be used up to 30 times so if they don't like it where they originally place it, they can put it somewhere else. There are so many hip and modern designs to choose from there is bound to be one that your pre-teen/teenager will love.
Sold online at Flair4all.com. Prices vary by design/size.
---
BOOM BOOM CARDS
Boom Boom Cards by Boom Boom! Revolution are cards designed to do intentional acts of Kindness. Basically, you do the revolutionary act of kindness on the card. Then, you go to the website and tell your story. Pass along your card to a friend and follow your card on the website's map as it moves across the globe. What a revolution! There is a Teen Edition as well as a Original Edition available for $9.99. This is the gift that gives back.
---
The Dream Phone
Originally introduced in the 90s, The Dream Phone game allows tweens to find out who has a crush on you by playing this game. The fun begins with the ring of the phone as girls make calls to a dream team of 24 teen boys, hoping to find their secret admirer through a process of elimination. Retails for $30 and is sold exclusively at Justice Stores.
---
Leaving the Bellweathers is an imaginative and whimsical story about a family and their butler, Tristan Benway. Kristin Clark Venuti's first book is one that will keep the attention of your middle school child through the humor and off beat mayhem.
---
All the Better to Kiss You With
All the Better to Kiss you With Holiday Kiss Kit from the Baby Bear Shop is a unique variety of three organic lip balms in vintage times. Retails for $19.99 online at urbanoutfitters.com or allthebettertokissyouwith.com.
---
Gifts for Everyone
---
Woodstock Chimes
Looking to add gentle lighting to an outdoor environment? The Capiz Solar Chime would look beautiful on your deck or pool area. The Capiz Solar Chime uses full capiz shells gently farmed in Indonesia. The thin, flat translucent pieces provide luminous color. The chime also incorporates a high-efficiency solar panel with LED light to provide "mood" lighting to any outdoor area.
Recharges with solar power during the day. Available in three vibrant colors – light blue, white, and lime green. Retails for $50 online at WoodStock Chimes.
---
Southern Brand, soft vintage t-shirts have a size for about everyone on your list. Shirts like "Top Shelf," "Baptized in Muddy Water," and "Liquor, Guns & Lotto" are sure to please the southern lovers! These t-shirts are super soft and pre shrunk for your wearing pleasure. Prices start at $29.
---
Etre Touchy Gloves
Keep warm while gadgeting with these stylish and functional gloves. Don't let all of your fingers freeze while you are out in the cold. Etre Touchy Gloves will be a unique and loved gift to anyone who loves gadgets on your list – especially texting teenagers! Retails for $33.
---
RapCap
Do you ever need a microphone on the go? The RapCap is available in almost every color, the RapCap is a plug and record and automatically play with iPod. It produces quality recorded sound. It is perfect for last minute interviews, personal memos, or recording notes in class.
Available at Small Dog Electronics for $15.
---
You've Been Sentenced
You've Been Sentenced is a fun game for the entire family. Using 10 cards, formulate a sentence from 50 random words. You will find yourself laughing at some of the sentence concoctions. You can also add on decks for more variety like Pop Culture, Gourmet Cuisine, Sports Highlights, and Sci-fi Fantasy. Your children will be having so much fun they won't even realize they are also building their reading, grammar, and vocabulary skills.
McNeill Designs for Brighter Minds donates a portion of the proceeds from the sales of this game to the literacy organization Success Won't Wait.
The Base game retails for $31 on Amazon.com and add on decks retail for $7.95. Would also be a great classroom gift for teachers!
---
Ninja Kitchen
I would recommend the Ninja Kitchen to anyone, even those who don't like to cook! It will replace your food processor, blender, cheese grater and more! Retails for $59.99.
---
Popcornopolis
A gift anyone will love, a popcorn gift basket from Popcornopolis. All products are made fresh and shipped immediately so you know you are getting the highest quality popcorn. Even if you don't get it all eaten quickly, the popcorn will stay fresh for up to 3 months.
---
Charleston Cookie Company
Charleston Cookie Company makes high quality delicious treats, which are great for gifts. They are packaged adorably and let me tell you, very tasty! The Candy Cane Brownies are a brownie for adult palates are taste as fresh as if they were just made. Prices vary.
---
OtterBox
Protect your high tech gifts this season with custom cases from OtterBox. Offers protection for Apple, Blackberry, HP, Nokia, HTC, Samsung devices among others, OtterBox will safeguard your expensive devices. Prices vary from $19.95 and up depending on your device.
---
The World Almanac 2010 and Book of Facts
I now realize I was the biggest dork ever as a kid. Before they had the kid's edition, I would browse through the original The World Almanac and Book for Facts just for fun. I'm still that geek.
The World Almanac and Book for Facts 2010 is sure to be the most used resource book in your home as it covers the basics of almost everything you need to know from country summaries to sports stats. You may be able to find it on line but this is a trusted book right at your fingertips.
Hardcover Retails for $27 on Amazon or you can purchase the paperback version which retails for $10 on Overstock.com.
---
Cookies from Home
Cookies from Home really taste like cookies from home. Probably better than mine. Cookies from home also comes in a delightful "house" package when shipped. They also offer special cookies for dietary needs. Prices may vary.
---
Eat Cleaner
Eat cleaner with Eat Cleaner brand wipes and wash. Eat Cleaner Seafood and Poultry Wash can be used to wash seafood and poultry before cooking but also your cutting surfaces such as our cutting board and counter tops without harmful chemicals. They also offer convenient grab 'n go fruit and vegetabe wipes which are biodegradable.
Eat Cleaner claims to extend the shelf life of produce you to 200% longer and inhibits browning – saving you money! Packing is made with recyclable/reusable bottles/tree free labels, and BPA free plastic.
Prices start at $4 on Amazon.com.
---
The Prez BaRock
The Prez BaRock is a fun gift for someone on either end of the political spectrum. I have several recipients in mind for this gift.
The Prez BaRock comes packed in a clear cube for display but if you want to spice it up, open up the briefing room backdrop and decorate it with your favorite rhetoric from the customizable stickers.
At just $15, this gift will be one that is talked about! You can purchase at prezbarock.com/.
---
Note: No compensation was received for these recommendations. In some cases a sample may have been sent for my review. It is noted in the actual review link whether samples were sent.
PR/Media: Interested in having your product spotlighted? Email holiday.bargainbriana@gmail.com for more details.